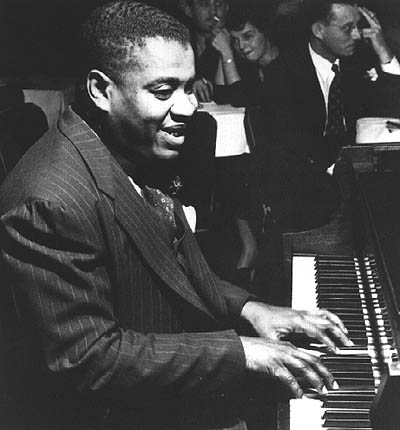 "Tatum has been the only jazz musician to date who has made an attempt to conceive a style based upon all styles, to master the mannerisms of all schools and then synthesize those into something personal."
- Benny Green
There are many things that can be said of the pianist Art Tatum; many grandiose superlatives, and an extensive library of flattering adjectives which could be applied. What I can certainly say about him, after enjoying his music for a number of years, is that he was a musician. A true musician. Someone who went beyond influences and musical styles. A musician who could utilize many forms of music, while creating, not a combination or a fusion, but something new and incredible.
Art was born in Toledo, Ohio to a musical family. His father, Art Tatum Sr., and Mildred Hoskins, his mother, encouraged Art in his music from a young age. He was born with perfect pitch, and started in music by picking out Hymnals on the piano. He was also very sensitive to intonation, and requested that the piano be tuned often.
He studied with various teachers, at various schools, one being the Jefferson School for the Blind. He developed cataracts in his youth, and was nearly blind his whole life. By 19 he was playing with Jon Hendricks at the local Waiters and Bellman's Club in Toledo. The modern stride scene was a huge inspiration to him - guys like Fats Waller, James P. Johnson, and Willie "The Lion" Smith, whom were the giants of the scene at the time. The musical intricacies of stride captivated the young Tatum. The extended harmonies, rhythmic variations, and musical liberties which could be taken in the context of the style seemed endless. Art would eventually meet his heroes on the bar room floor for a cutting contest in New York City, from whence he would emerge the "victor."
His reputation spread(to even the great Duke Ellington, himself) rather quickly in the clubs and bars of Toledo. He'd eventually take his place as a power player amongst the musical elite. He was universally praised; his forerunners, contemporaries, and those whom he influenced - all spoke very highly of him. Indeed, there seemed little to critic of the technique and musicality of Art. Stride great Fats Waller, is quoted as saying of Tatum, one night at a club he and Tatum were to perform,
"I only play the piano, but tonight God is in the house."
Art had developed his own particular technical approach at the instrument from watching others play. His left and right hand were equally verse and extremely well trained. Blistering pentatonic patterns, as well as more complex runs based of chord changes, were prodigiously executed, along with steady patterns ranging from simple ostinato, to the more monstrous oom-pah stride bass with the widely extended harmonies, in the left hand. Art never seemed as though he was exerting himself when he played - he never jumped around in a hammy expression of showmanship. His playing was methodical and purposeful. All this is even more extraordinary in the light of his heavy drinking habits; he was usually consuming while performing, yet never missed a beat or made any kind of mistake.
Art's popularity came to a peak in about the late-thirties, early-forties, after recording a string of widely played radio hits. One of his most notorious tunes was his arrangement of the song, "Tiger Rag" which still continues to mesmerize and intimidate musicians to this day. Particularly, the bebop saxophone giant, Charlie Parker, while washing dishes at a Manhattan club, would listen intently to Tatum, whom was newly arrived from the midwest, saying,
"I wish I could play like Tatum's right hand!"
Art worked with many different bands throughout his career, but remained predominantly a solo artist. Many former bandmates commented at the difficulty of keeping up with the extreme tempos, and falling short in contributing material to Art's playing. Art commented once that a band "hampers" him, and certainly preferred playing solo. This, in part, led to a trickling out of his career, as bebop became a mainstay, and solo piano became sort of novelty.
Tatum continued playing throughout the forties and fifty, remaining a strong musical influence to the new scene of music, but in a far lesser role. He spent the last two years of his life at the Baker's Keyboard Lounge in Detroit. He died of Uremia in 1956, at the age of 47, leaving behind a musical legacy that remains strong over 60 years later.
I had started listening to Art Tatum when I was about 14 years old. My former music teacher, Carlos Barrientos, introduced him to me, along with many other greats such as Thelonious Monk. Art inspired me to be the best musician I could possibly be. Tatum's music still continues to remind me that I have so much to learn about music - about the performance of music, the technicality of music, and the interpretation of music. He inspires me to know where music has been, but to be ambitious and innovative, as well. He pushes me in my practices, to find new lines and new ways of interpreting my old ones.
What else is there to say?